Featured Artist Carla Seaton
Carla Seaton
(Anacortes, WA)

Carla Seaton grew up just miles from the Puget Sound in a small community in South Kitsap County. From an early age Carla loved bright colored things. Spring is her favorite time of year when fun flowers bloom and crazy birds sing. All of this is evident in every piece of art she creates. Anything from polka dotted bubble trees to funny, silly sock monkeys, each piece of art is created to warm the soul.




Carla is a self-taught artist who began to paint professionally in 2009. She has since sold hundreds of paintings both here in the U.S. and to collectors all over the world. Her most popular mixed media series "The Girl with the Striped Tights" brings positive quotes, happiness, and bravery through art. She has been published nationally, in Somerset Studios and HeART Journaling Magazine. She has published two children's books Animals in the Alphabet and Enjoy the Little Things in Life.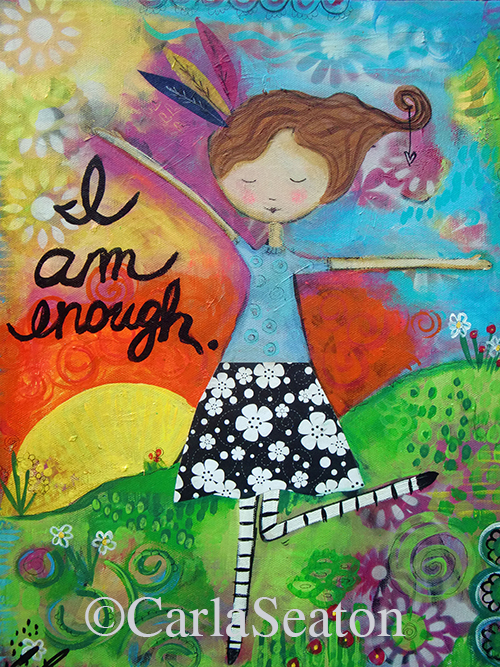 Carla currently lives with her family in Anacortes, Washington and can be seen at local coffee shops with her art journal transforming her cup of coffee into colorful swirls of steam. You can find her work in many local gift shops including Bellingham, Anacortes, Stanwood, and Friday Harbor. She also teaches mixed media art classes in her home studio. In the summer you may find her at Western Washington Art Festivals goofing off in her art booth with her husband Dan. Her mission is to create smiles, one painting at a time and her schedule can be found at Carla's Funky Art




"Bayshore has been so wonderful with helping me with my prints and cards. The graphics department has gone above and beyond to design exactly what I need. With the help of this company, I can spend more time in my studio creating and less time worrying about printing. Thank you Bayshore for all of your help!"


Carla's upbeat personality brightens our day, and is always reflected in her art. She is always a blast to work with; and her artwork always leaves us with a smile. It is an absolute pleasure to help her create note cards, post cards and other printed pieces from her colorful artwork. Be sure to see her artwork on display in our gallery here at Bayshore.
~Michele and Jim, Bayshore Graphics Dept.

You can find Carla on Facebook, and you can find her art at her website, at local shops, and in State Parks around the area.


Bayshore's Featured Artist History: